Okay, so, today I am 26. It's almost four pm and I am still in my pajamas. I'd say so far I am having a good day. To celebrate, I will be eating
Cake Batter Fudge
; one of my most recent experiments.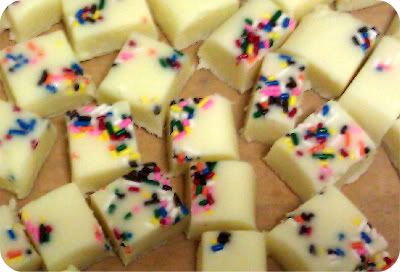 You will need:
1 1/2 cups sugar
1 teaspoon salt
6 tablespoons unsalted butter
1 cup heavy cream
3 1/2 cups mini marshmallows
3 cups white chocolate chips
1/2 cup yellow cake mix (not cake batter) sifted
1 teaspoon pure vanilla extract
Rainbow sprinkles
Step four:
Pour into pan and let sit at room temperature until set; about three hours.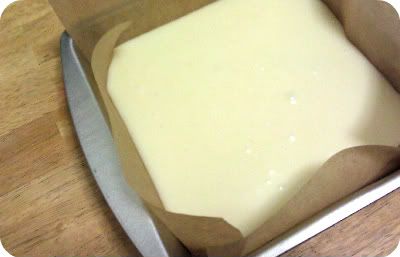 Step five:
After it has set, pop it out onto a cutting board or onto a piece of parchment paper. Cut into little squares. Nom.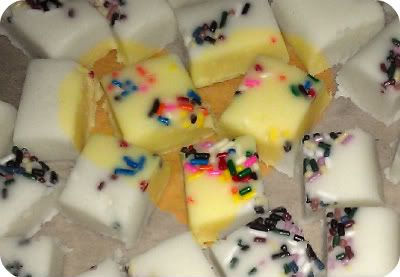 Also, I am very happy to report that I have been
featured
on
Baking Bar
, a blog I have recently discovered that showcases a variety of baking recipes and reviews of products, books and blogs. Everyone should go check out my write up! I was very flattered to see my name and pictures of my creations on Baking Bar this morning!