A few weeks ago I created something very magical in my slow cooker;
Spinach and Provolone Stuffed Chicken
. This recipe had a few more steps than most slow cooker recipes, but it was nothing short of delicious. The only thing I would change is the fact that I had only made two servings - one for me and one for the hubs. I would have loved to have leftovers! I came up with this idea shortly after I had gotten my slow cooker. I saw a recipe for ham and cheese stuffed chicken which was baked in the oven and served with rice, and was like "hm, I bet I could make that, only
WAY BETTER
in my slow cooker!" Although I didn't use ham, and I bet that would have been damn good, I was looking for something a little healthier.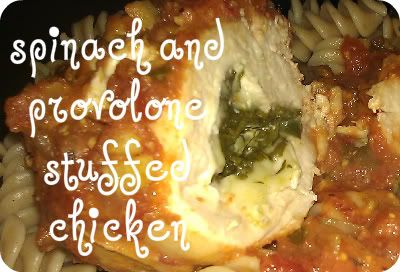 You will need:
Two boneless chicken breasts
Large can of diced tomatoes
Parmesan cheese
Three cloves garlic, minced
Golf ball sized white onion, diced
Fresh parsley, chopped
Whole wheat pasta
Sliced provolone cheese
salt and pepper
Spinach
Step one:
Toss the can of tomatoes, garlic, onion, parsley and a sprinkle of parmesan cheese into the slow cooker and set to high.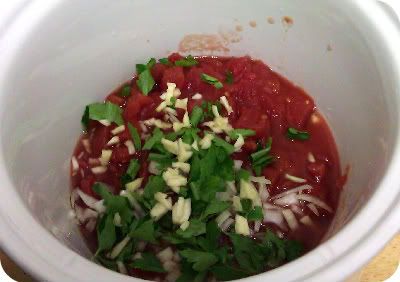 Step two: Wash and pat dry chicken. Slice each chicken breast down the middle, lengthwise, about 2/3 way through, so when you open it, it kind of looks like a flesh butterfly. On a cutting board or seran wrap covering the table if you're ghetto (like me) use a rolling pin to flatten it. Like so;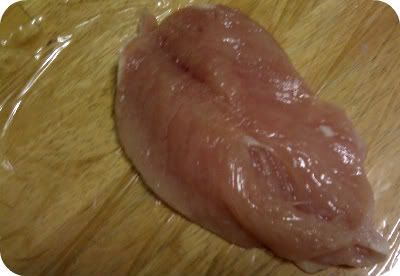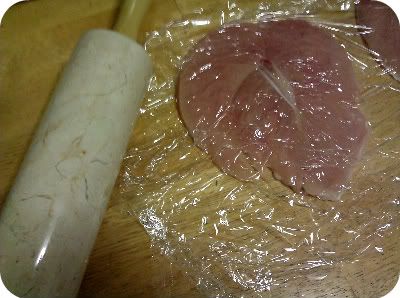 I highly recommend putting seran wrap on top of the chicken before flattening with your rolling pin. Not only does it hold the chicken in place better, the next time you are rolling out cookie dough you wont be worried that you're eating chicken germs, that even though you washed the rolling pin, like eight times, still may have survived. And multiplied. And transformed into some flesh eating disease. Can you tell I have taken a food safety class and am now terrified of food borne illnesses?
Step three: Place slices of provolone in the center of the chicken (I used one and a half slices on each) On top of the cheese, put a few pieces of spinach. Roll up and hold with a couple toothpicks. Refrigerate.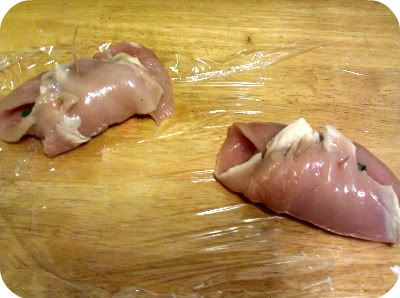 (The chicken may have started to cook while I was defrosting it in the microwave.. oops!)
Step four: After the sauce has been cooking for about an hour, use a potato masher to turn the diced tomatoes into sauce. If a lot of water has evaporated, add a little water. Let it cook for another half hour and mash again. Add the chicken on top of the sauce and let cook on high for an hour. Set to low.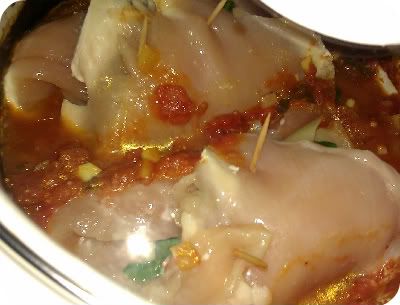 Step five: Using a spoon, cover chicken with the sauce and let cook on low for another hour.
Step six: Remove toothpicks and serve over whole wheat pasta. Nom.