Hey friends! If you follow me on twitter (
@OMFGitsMEL
) you know that I have recently acquired a Crockpot courtesy of CSN stores. I have never owned a crockpot, but it had definitely been a dream of mine since I was little, when I would watch my mother make Boiled Dinners once a month. Yeah I know,
what a dream for a little girl - wishing she had her own crockpot
. Whatever.
Anyway, I love it. Clearly. So much so that I have decided to dedicated my Sunday post to all things slow cooking. Yeah dude. Slow Cooking Sunday. Clever, huh?
So, the day I got my Crockpot via FedEx, I immediately wanted to fill it with a bunch of noms and sit at the kitchen table for seven hours and watch it cook. The previous week I had purchased an abundance of meats with bright orange "Good for slow cooking!" stickers on the packaging, in anticipation of the arrival of my beloved, and stuck them in my freezer. I thought the cooker was coming earlier than it actually did, so I kept purchasing these meats each time I ran to the store for something, mapping out meals in my head. Each day that the FedEx man didn't come, I died a little inside. My freezer started getting really full, and I was running out of places to keep the meats. I feared that my friends and family would contact Hoarders and perfectly good meats would be thrown out with a shovel.
And then, it came.
I
squee!
ed with excitement and ripped the box open. I grabbed a pork loin out of the freeze, and began defrosting it in the microwave. I set the cooker on the table and awed in amazement. I daydreamed about all the effortless cooking I would be doing, all the chili I would be freezing, all the soups I'd be slurping, and in the midst of this all, the timer on my microwave went off. My meat was defrosted.
I washed the loin and patted it dry with a paper towel. Next, I trimmed off all of the excess fat and plopped that bad boy into the pot. I diced a small onion, and a couple cloves of garlic and tossed that on top of the meat. I used a little dijon mustard, a few tablespoons of soy sauce, pepper and a sprinkling of brown sugar. I set it to high and walked into the other room.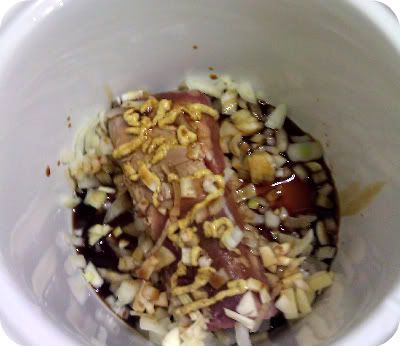 The cat was making use of the box in the living room, by converting it into a bed (which after a few weeks, he still hasn't gotten out of. I don't have the heart to throw it away, either. The last time I was able to pry him out of the box, there was at least a pound of gray fur lining the corners.)
About five minutes later I ran into the kitchen and looked at the meat.
Ughhh, why is it so slow!? Oh yeah, never mind.
I went to the grocery store, washed a bunch of dishes, washed six loads of laundry and cleaned the kitty box while waiting for the meat to cook. Then I checked it again, and it smelled absolutely delicious. The pork looked a little dry, so I threw in some broccoli and a few tablespoons of water and turned it down to low. I let that cook for about an hour, and then broke the tender meat into chunks with a fork, and served over rice with a side salad.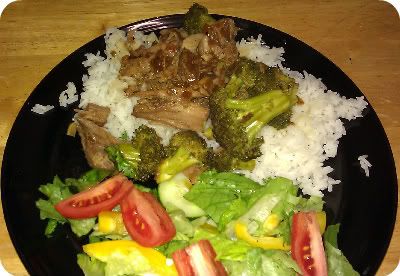 The verdict? Absolutely fucking delicious.